Custom Printed Lanyards
HERE AT SKE DIRECT SALES WE SUPPLY CUSTOM PRINTED LANYARDS FAST IN ANY COLOUR, ANY TEXT ANY LOGO, RIGHT ACROSS THE U.K
BESPOKE CUSTOM LANYARDS WITH YOUR TEXT, YOUR LOGO, YOUR DESIGN. ORDER OR ENQUIRE ABOUT YOUR CUSTOM PRINTED LANYARDS BELOW
Full Colour or One Colour?
Full Colour Sublimation Promotional Lanyards is where the image is digitally stained or dyed through heat transfer into the lanyard, this allows for better definition and colour depth and tends to be used for many colours. Colour merging, fading and photographs are possible.
One Colour Screen Printed Personalised Lanyards is where the image or text is printed on to the lanyard, like paint on a wall. This is cost effective if printing with one or two colours on one or both sides. Screen printing give brilliant sharp edge definition to logos and text and colours are crisp and bright, making the print stand out
We work to Pantone References, so almost any colour is available
All our Prices for Printed Lanyards are based on 50 pack size and multiples of 50, please contact us for quantities of under 50 (Minimum 25) or non-multiples of 50. Prices also include a metal trigger clip and a safety breakaway. You can change this, no problem, to almost any type of attachment. Here are some examples.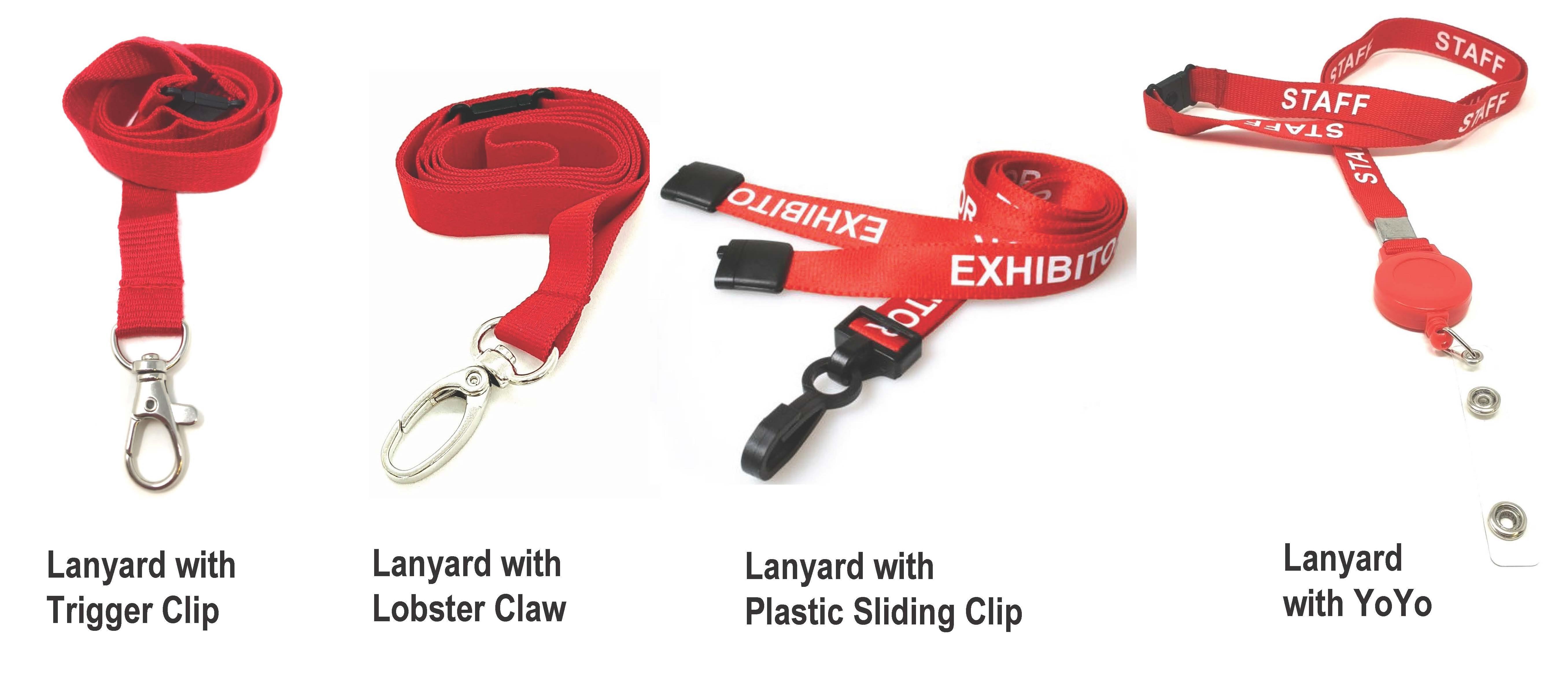 We offer 2 delivery service for your customised lanyard, click on the links below for the costings. 7-10 days express and our best value 15-20 days service. Delivery days are from approval of proof
So what is the ordering process for to get your custom printed lanyards? its easy:
1. Place your order for the lanyards and service your require OR send a message enquiry.
2. Once your order is placed, we will arrange a proof and send it to you for approval
3. You approve the proof by return OR you can change the proof as many times as you wish. We do not charge for proofs or changes to proofs
4. Once approved, we will deliver the lanyards within the delivery time
sales@skedirectsales.com or 01827 768727
To Order Custom Lanyards Click here